În articolul 19 cărți pe care vreau să le citesc în 2019, pe care l-am scris în luna ianuarie 2019, am povestit câte ceva despre cărțile pe care vreau neapărat să le citesc anul acesta. Și după ce prima jumătate a anului a trecut deja, consider că e momentul să fac o actualizare cu privire la ce am citit și ce îmi rămâne de citit pentru următoarele 6 luni din 2019.
Dar înainte de a începe, trebuie să menționez că zilele astea citesc Fiica ceasornicarului (The clockmaker's daughter) de Kate Morton.
Ce mai am de citit
Cea mai mare parte a cărților pe care voiam să le citesc anul acesta, rămâne cea a celor necitite, care începe cu Alb letal (#4 Cormoran Strike) – Robert Galbraith, Tatuatorul de la Auschwitz – Heather Morris, pe care o am cu mine în Belgia și va urma curând și al doilea volum al seriei Arc of a Scythe, Thunderhead – Neal Shusterman
Încă îmi este puțin teamă să mă apuc de Un bărbat pe nume Ove – Fredrik Backman. Și mă feresc și de Ape House – Sara Gruen, Magicianul – John Fowles și The summer before the war – Helen Simonson. Am fost de multe ori pe punctul de a le asculta pe Audible, dar în ultimul moment am ales altceva. Sper să ajung totuși la ele, dacă nu vara asta, măcar în toamnă. The thief of time – John Boyne este și ea o carte pe care o mai am de citit, urmată de al treilea volum din seria Silozul, Silozul. Generațiile – Hugh Howey și de tot al treilea volum al seriei Shades o magic, A conjuring of light – V.E. Schwab.
Ultima dar nu cea din urmă rămâne o carte a lui Kristin Hannah, numită Un nou început.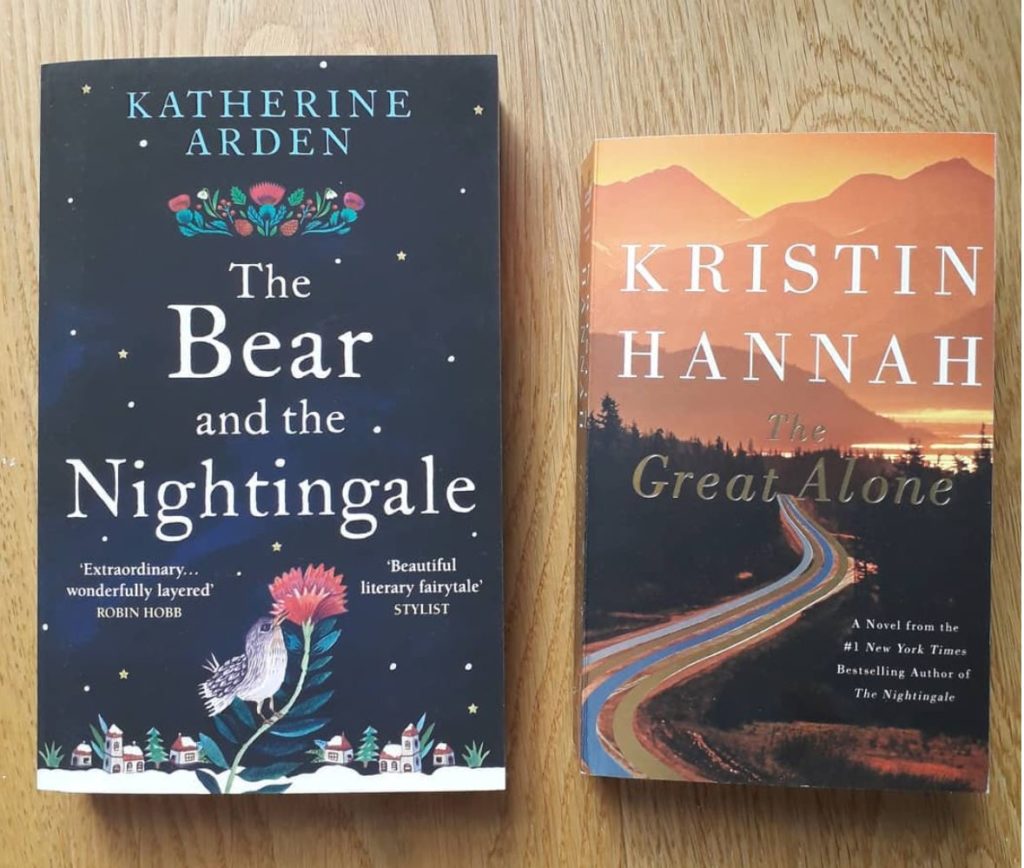 Ce am citit
Fly Away (#2 Firefly Lane) – Kristin Hannah.
Furtuna războiului (#4 Regina Roșie) – Victoria Aveyard.
Ursul și privighetoarea (#1 Winternight trilogy) – Katherine Arden.
Un gentleman la Moscova – Amor Towles.
Station eleven – Emily St. John Mandel. A fost tradusă la noi cu numele Simfonia itinerantă.
Soția călătorului în timp – Audrey Niffenegger.
Călărețul de aramă (#1 Călărețul de aramă) – Paulina Simons.
Despre unele dintre ele puteți să citiți deja pe blog. Până atunci însă, vă invit să îmi spuneți ce carte v-ați fi dorit să citiți anul acesta și dacă ați reușit să faceți asta până acum sau dacă ați amânat-o pentru semestrul doi al anului 2019.